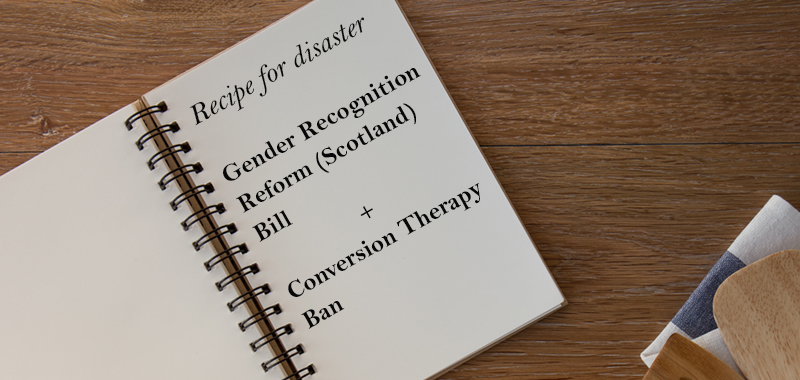 Scottish Trans Bill and CT Ban - a recipe for disaster
The Scottish Government wants to allow 16-year-olds to easily change legal sex, whilst also criminalising anyone who might try to intervene, including parents.
The controversial Gender Recognition Reform (Scotland) Bill lowers the minimum age for changing legal sex from 18 to 16.
It also replaces the need for a professional diagnosis from two medical practitioners with self-declaration, otherwise known as 'self-ID'.
The Bill, which is currently being rushed through the Scottish Parliament and expected to pass before Christmas, seeks to reduce the wait time in which a person must live in the opposite sex from two years to just three months for over-18s and six months for under-18s, plus a three-month 'reflection' period.
If that alone wasn't worrying enough, add in the potential for a broad conversion therapy ban that criminalises anyone who tries to help the person make an informed decision.
A definition from a recent report produced for the Scottish Government said 'conversion therapy' includes any attempt to 'change' or 'suppress' a child's gender identity or sexuality.
What a recipe for disaster.
Picture this scenario if the Gender Recognition Reform (Scotland) Bill is passed: 16-year-old Matt decides he wants to be a girl. He doesn't need to seek medical input, he simply just decides for himself.
His loving Christian parents try to discuss the situation with him and share from Genesis and the Psalms that he is "fearfully and wonderfully made" (Psalm 139:14) as a boy.
But under a broad conversion therapy ban, this kind of input would be deemed illegal because it is seen as attempting to 'change' or 'suppress' Matt's gender identity.
Matt tells a teacher that his parents have been discussing the Bible with him and questioning his decision to change legal sex, so the teacher reports the parents to the police for carrying out 'conversion therapy'.
So Matt can't buy alcohol or drive a car yet, but the Scottish Government believes he can give informed consent to this monumental decision to change legal sex. So much so that they would seek to criminalise anyone, including parents, who tried to intervene.
Surely kowtowing to harmful gender ideology has gone too far.