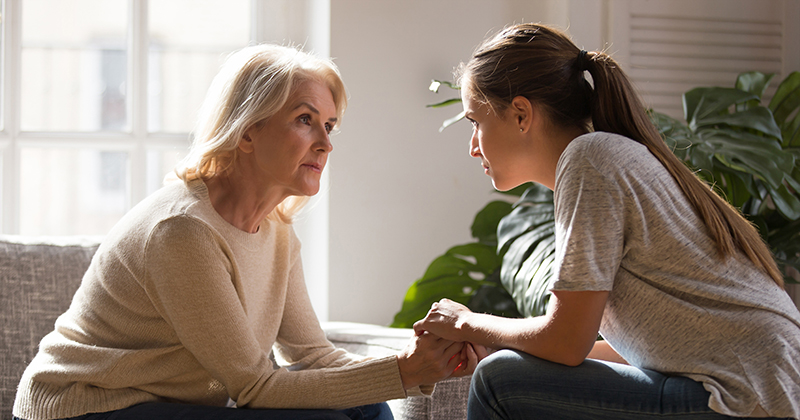 A conversion therapy ban could force parents to affirm trans ideology
Your sixteen-year-old daughter tells you she identifies as non-binary, and wants to be known by a different name and use they/them pronouns.
What would your response be, as a loving parent?
When mum Rachel first heard that her daughter Briony was experiencing gender dysphoria, she said she felt it was important to explore and understand her daughter's decision, rather than accept it immediately.
Wouldn't any loving parent do the same?
Throughout a child's life, parents will help them think through decisions and the potential impact they could have. What to eat… what to watch… what time to go to bed… which social events to go to.
It would be irresponsible for a parent to simply "affirm" every decision a child makes without first asking questions.
But under proposals for a broad conversion therapy ban, parents could be required to affirm a child's decision to change gender. Many campaigners say that those who refuse to back their child's decision should be at risk of losing parental rights.
In a BBC article exploring trans guidance for schools, mum Rachel said that when she spoke to her daughter's school, she found out they already knew about her daughter's desire to 'transition' and had been implementing the changes her daughter had requested.
She said: "They had just gone along with it - I was shocked by that".
"My concern is this could have a more lasting impact on her that could cement her way of thinking, rather than giving her the time to explore how she's really feeling and why.
I want to make sure she doesn't do anything that's not right for her at the age of 16", she added.
Rachel says her daughter has now gone back to using she/her pronouns and is awaiting clinical tests.
Describing her concern as a mother, she said: "I can't remember the last time I had a good night's sleep. It's very difficult - you want the best for your child and when you see them struggling, you just want to help them."
The Australian state of Victoria has one of the most extreme conversion therapy laws in the world. It is held up by LGBT activists in the UK as the 'gold standard'.
Its official guidance explains that "not affirming someone's gender identity" is now an "illegal practice".
One mum living in Victoria said that: "Parents should have the right to have hard conversations with their own children about their future without the threat of imprisonment."
She warned: "Teenagers are not allowed to drink alcohol, or get face tattoos, or rent a car, or vote. If they are not considered physically, emotionally, or intellectually mature enough to make these decisions, how can they be considered mature enough to make life changing decisions such as cross-sex hormone treatment without parental knowledge, counsel, or consent?"
Top human rights lawyer Aidan O'Neill KC has said a conversion therapy ban would "criminalise parents who lovingly and in good faith and in accordance with their own best judgment and conscience seek to caution their children in relation to any stated intention to embark on… 'gender transition'".
Speaking on proposals in Scotland, he adds: "The giving of such parental advice might result… in these parents being deprived of their parental rights and/or their children removed from their care."
A broad conversion therapy ban will have a detrimental, life altering impact on children. It would be a legislative wrecking ball to loving families.