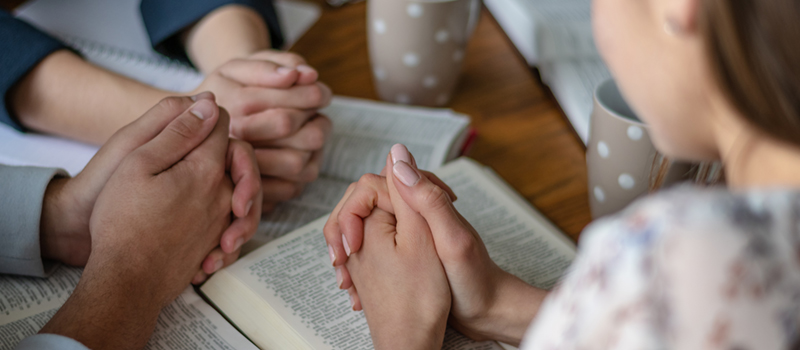 Can you be a Christian without conversion?
It seems supporters of the conversion therapy ban want to outlaw any kind of prayer or pastoral support which seeks to guide a person toward a biblical understanding of sexuality and identity.
Activists say 'any form of... persuading someone to change their sexual... behaviour... or gender identity should be illegal'.
Commenting on prayer, Jayne Ozanne, a leading campaigner for the ban, said "when there is a pre-determined purpose I think that must be banned"[1].
But all this undermines the very heart of Christianity.
The term 'conversion' is commonly used in Christianity to describe a person's response to the Gospel message and Christ's call to repentance and faith.
The Bible teaches the bad news that all of us have sinned and face judgement from God, and the good news that He has provided a way for us to be forgiven through Jesus Christ.
In their letter to the Westminster Government about its conversion therapy plans, 2,500 Christian ministers and pastoral workers explained it like this.
"It is our duty to call people to be converted to Christ; that is, to turn from believing that we are identified and best guided by self, to knowing that we are identified and best guided by God.
They continued:
"Christian Conversion inevitably means giving up on lifestyles incompatible with being a Christian, of which sexual sins are just one. It should not be a criminal offence for us as Christian ministers to persuade, to teach and to help people of every age to become, and to live as, orthodox Christians.[2]"
In response, activists effectively say 'we are not stopping pastors expressing what the Bible says about these things. We simply want to make it illegal for pastors to encourage an LGBT person to personally embrace the Bible's teaching on sexual ethics and identity.'
The Australian state of Victoria has introduced a conversion therapy ban under which a sermon is not considered illegal if it is
"expressing a general statement of belief (provided the sermon is not being directed at an individual in a group setting)".[3]
But preachers will tell you that people often come up to them after a sermon and tell them they felt it was directed at them. In Australia, this could make it a matter for the authorities. And Jayne Ozanne thinks Victoria's law is "the gold standard".[4]
Ozanne also says the only kind of prayer with a gay or trans person which should be legal is the sort of prayer "where any outcome is acceptable and right". She wants the ban to apply to anything that is 'directive'.
Does that sound in keeping with the Bible to you?
In James 1:22 God calls us to be doers of the word, not just hearers.
Jesus says in Matthew 7:24-26: "Everyone then who hears these words of mine and does them will be like a wise man who built his house on the rock." And in contrast, "everyone who hears these words of mine and does not do them will be like a foolish man who built his house on the sand".
In John 14:15 Jesus teaches us: "If you love me, you will keep my commandments." And v24: "Whoever does not love me does not keep my words."
There are many more verses in the Bible which urge believers to not just listen but to live out the word of God.
John 831-32 says this is a sign of a true disciple: "If you abide in my word, you are truly my disciples, and you will know the truth, and the truth will set you free."
Campaigners say: 'Any form of... persuading someone to change their sexual... behaviour... or gender identity should be illegal'.
But if a pastor is to stay true to the Bible then they must be able to encourage people to embrace the word of God in its entirety, including in areas to do with sexuality and identity. To make this illegal would be the real crime.
---
[1] Report on Petition PE1817: End Conversion Therapy, Equalities, Human Rights and Civil Justice Committee, Session 6, SP Paper 88, 25 January 2022
[2] https://ministersconsultationresponse.com/
[3] https://www.humanrights.vic.gov.au/change-or-suppression-practices/have-you-experienced-a-change-or-suppression-practice/
[4] Report on Petition PE1817: End Conversion Therapy, Equalities, Human Rights and Civil Justice Committee, Session 6, SP Paper 88, 25 January 2022
Latest articles