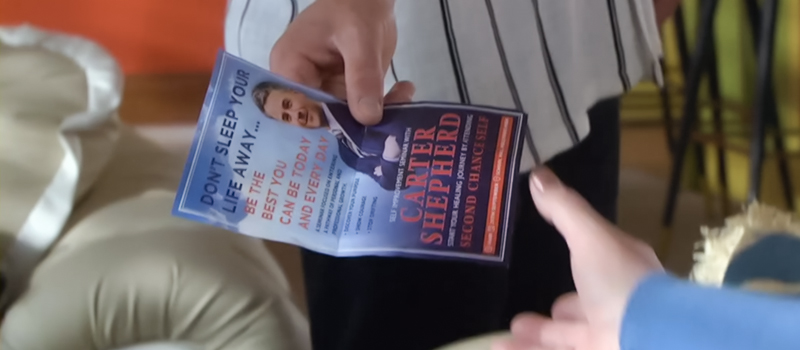 Hollyoaks aims to 'set agenda' on conversion therapy
Hollyoaks has announced its upcoming autumn series will include a controversial conversion therapy storyline.
The popular Channel 4 soap has previously included similar themes in its documentary version of the series, Hollyoaks IRL.
The storyline, which began last Friday, will eventually see new head teacher Carter Shepherd offering "self-growth sessions" to school pupils.
Friday's episode saw fellow teacher John Paul McQueen being drawn into the sessions without any awareness Shepherd intends to "lead him away from the gay lifestyle".
Explaining the decision to go ahead with the latest storyline, Channel 4 commissioning executive Ben Wadey said: "Conversion therapy may sound like something extreme or rare but sadly the figures tell us otherwise".
He continued: "…we will look at this devastating practice and the various insidious forms that it can hide behind".
Reports say Hollyoaks has worked with campaigners and advisors with 'lived experience' of conversion therapy to inform the storyline.
Seeking a dangerous new law
In Friday's episode, John Paul is seen leaving the first 'therapy' session with transgender former head teacher, Sally St. Claire.
Confusingly Sally is, in fact, John Paul's now-transitioned father in the programme, and is played by transgender actor Annie Wallace, a patron of 'trans children' charity Mermaids. The disreputable group is part of the 'Ban Conversion Therapy' campaign, which says even casual conversations should be outlawed.
Channel 4 has been very explicit about its agenda in supporting a change in the law and using its platform to persuade others to support this view.
Wadey proudly states: "Hollyoaks is well-known for never shying away from a subject that is agenda-setting and can help educate and inform and has a history of successfully telling difficult and important stories."
What is the agenda they are trying to promote? If it is that abuse is wrong, everyone will get on board. But does Channel 4 instead want to promote Mermaids' version of a ban, which would see Christians and others criminalised for disputing LGBT ideology?
Activists campaigning for a ban have made clear this is their intention. They have said "casual conversations" and "private prayer" must be caught by a new law. It remains unclear what practices Hollyoaks intends to portray in the coming weeks, but if it chooses to denigrate religious beliefs or traditional views on sex and gender in an attempt to see them outlawed, it will be doing an enormous disservice to the public.
A bad case for a new law
Hollyoaks is not the first soap to get involved in the conversion therapy issue. ITV's Emmerdale presented a farcical case for a ban when it dramatised a supposed conversion therapy storyline over the summer.
The plot involved an unhinged and abusive 'Christian', Colin Hamston, whose teenage son was same-sex attracted. Colin's actions in the story already contravene several UK laws, and he was eventually taken away in a police car.
The show's writers chose to play on Colin's religious character to portray him as manipulative and abusive and using the Bible in an entirely misguided way. But his actions are in complete contradiction to the Bible's teaching.
More than that, Colin's abusive treatment of his son is already illegal under existing laws. The fictional character claimed he wanted to send his son to an equally fictitious 'conversion therapy camp' abroad, kindly reminding viewers there are no such camps in the UK.
These stories might make good television but, with a little critical thinking, they remind us there is no need for a new law. Scriptwriters have the creative freedom to dramatise storylines to entertain viewers. They might even choose to virtue signal to their particular audience. Lawmakers, on the other hand, must stick to the facts.
[Image credit: Channel 4 - Lime Pictures]