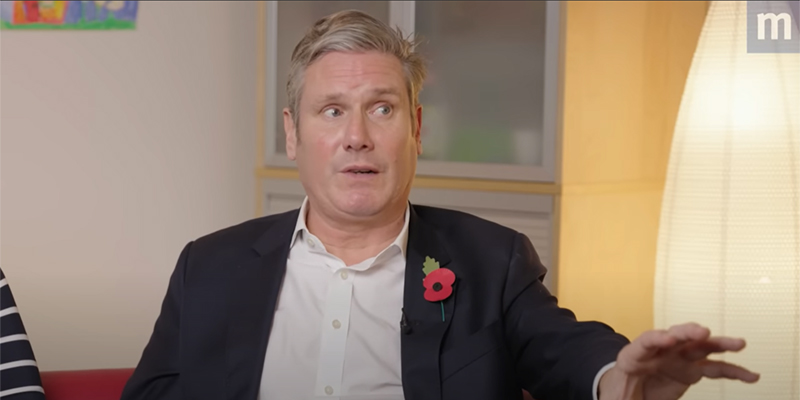 LGBT Activists attack Starmer for backing parental consent
Labour leader Sir Keir Starmer has been criticised by leading proponents of a conversion therapy ban for saying children should need parental consent before changing gender.
Speaking during a Mumsnet interview he said: "I feel very strongly that children shouldn't be making these very important decisions without consent of their parents. I say that as a matter of principle. I say that as a parent."
He added: "We all know what it's like with teenage children, and I feel very strongly about this...this argument that children can make decisions without the consent of parents is one I just don't agree with at all."
Blair Anderson, a spokesperson for the End Conversion Therapy campaign, hit out at Starmer's comments in a Tweet.
He said: "Depending on your parents' "consent" to be the sexuality or gender that you are is like Conversion Therapy 101".
TransforumUK called Starmer "a disgrace". They accused him of being "in favour of allowing parents to commit so-called 'conversion therapy'", tweeting, "That's the CLEAR meaning of your 'nothing without parental consent'".
Guardian columnist Owen Jones labelled Starmer's comments "beyond aggravating" and called on him to 'do his homework or say nothing'.
Previously the Labour leader has pledged to 'ban conversion therapy in all its forms'.
But his latest comments regarding parental consent raises the question – does he really know what LGBT activists want outlawed?
Does he realise this is a ploy to put extreme gender ideology on the statute book? They want the law to say that LGBT thinking is more important than anything else, including ordinary parenting and child safeguarding in schools.
Unherd columnist Joan Smith remarked that perhaps reality had caught up with Starmer on the trans issue.
She wrote: "Now he's discovered an issue, the social transitioning of children without their parents' consent, on which he's no longer willing to toe the line".
She added: "His change of heart will be welcomed by parents and health professionals who warn that allowing children to change their pronouns and use opposite-sex toilets at school could put them on a path towards irreversible medical treatment, including puberty blockers".
Last year the Australian state of Victoria passed a law to ban conversion therapy.
Since then parents have expressed outrage over the far-reaching ban. Under the new law, parents could face up to 10 years in prison or a maximum fine of £100,000 if they try to do anything other than affirm their child's desire to change gender.
Official State guidance lists as an "illegal practice", "a parent refusing to support their child's request for medical treatment that will enable them to prevent physical changes from puberty that do not align with the child's gender identity".
"Distraught" parents there are forming "clandestine networks" out of fear that even discussing their children's struggles might result in visits from police or social services. Yet LGBT activists in the UK call the Victoria law the "gold standard", and want the same legislation here.
If parents knew the reality of just how extreme the proposals are for a conversion therapy ban Sir Keir wouldn't be the only one strongly objecting.
Labour's position on conversion therapy
Sir Keir Starmer's comments mirror those of the Shadow Secretary of State for Women and Equalities, Anneliese Dodds MP. She has recently reaffirmed Labour's commitment to have a "full ban on conversion therapy".
But Anneliese Dodds has also made it clear such a ban "must not cover psychological support and treatment, non-directive counselling, or the pastoral relationship between teachers and pupils or religious leaders and worshippers".
How long can Labour keep saying they want a "full ban" while still protecting church pastoral care and parenting? Activists will never be satisfied with a law which stops short of criminalising ordinary parents and Christian beliefs.
Latest articles