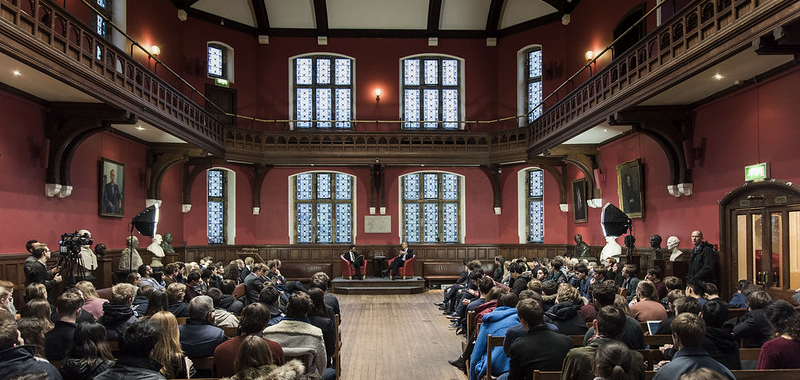 Oxford Students Union cuts out debating society after ludicrous 'conversion therapy' row
by James Kennedy

James works in public affairs for The Christian Institute and is part of the Let Us Pray campaign.
Controversial speakers are common guests at the Oxford Union, the renowned two-centuries-old debating society.
Examining differing viewpoints on important social issues is a staple for the institution, which is known for taking a no-holds-barred approach to discussion.
Past speakers have ranged from Albert Einstein to Winston Churchill; Mother Teresa to Michael Jackson. Controversial topics have included 'Black Lives Matter'; 'Does God exist?'; 'Brexit' and 'gay marriage'.
The Oxford Union says it was "established in 1823 to uphold the principle of free speech". But it has not been immune from efforts to have it 'no-platform' some guests.
The most recent invitee to find themselves at the mercy of a disapproving crowd is one surprisingly painted as an arch-villain of the 'gender-critical' movement: well-known academic, Kathleen Stock.
Stock was a professor of philosophy at the University of Sussex until resigning in 2021 after a campaign by LGBT activists. Perhaps particularly because of her support for wider 'LGB' issues, her dismissal of transgender ideology provoked outrage.
She gave evidence to the House of Commons opposing gender self-ID (when Westminster considered it in 2020) and has been consistently clear she believes rights based on biological sex must be protected.
Now noted as a popular public speaker, Stock has been invited to speak on gender ideology at the Oxford Union later this month (May).
But a row has hit national headlines after Oxford University LGBTQ+ Society claimed the Oxford Union had issued a "misguided invite" and should now "rescind" it.
The Oxford University Students' Union has now cut financial ties with the Oxford Union; an extraordinary move that is impossible to separate from the row.
All of the accusations made against Kathleen Stock were wholly unfair. Her viewpoint is not unusual in any way. Most people would agree with Stock that men should not be able to use women's bathrooms or play in women's sports, and that this should be recognised in the law.
But one accusation was particularly outlandish: they claimed Stock supports 'conversion therapy'.
It is a particularly cruel comment to make, since most people would assume 'conversion therapy' refers to horrific practices like electroshock treatments; and clearly she does not support anything of the sort.
But the term is used by LGBT activists in an elastic way. They now claim it involves innocent religious practices like people praying for themselves, or innocent and loving parents seeking to help children be comfortable in their own skin. They choose to put ordinary religious practices and loving parenting in the same category as horrendous abuse and coercion. In doing so, they argue for a law which would, in effect, oppress anyone who disagrees with LGBT ideology.
The Oxford Union has thus far stood firm. It says the talk from Kathleen Stock will go ahead. But its opponents are refusing to back down. They plan a protest, which will have the backing of a local pub and virtually unknown group 'Oxford Against Conversion Therapy'.
The 'Oxford Trans+ Pride' group plans to host their own event, with a panel titled "Between Free Speech and Hate Speech" on the problems of hosting "hateful" speakers. That gives a clear indication of the intentions of this group. 'Free speech' is only acceptable if it aligns with their thinking. Those who take a stand against extreme ideology are involved in deplorable hate speech, by their logic. No room is left for natural disagreement over the highly contentious ideas they are pushing.
For Christians, it shows the danger of legislating on 'conversion therapy'. Far from being a law preventing solely abusive practices, it seems likely to be used to maliciously attack religious believers as well as many others.
Update: The Oxford University Students' Union has since said that its decision to cut financial ties with the Oxford Union "was unrelated to Dr Stock's intended talk".
Latest articles