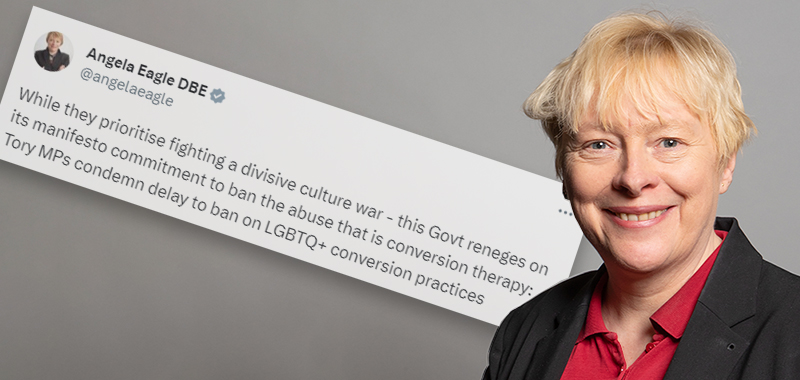 MP makes false claims about Govt promises on conversion therapy
Labour MP for Wallasey, Angela Eagle, has repeatedly claimed that a conversion therapy ban was in the Conservative Party manifesto.
But the claims are entirely wrong, since there is no mention of the proposals in the published manifesto.
The MP signed a letter, alongside several LGBT activists, calling on the Government to publish its forthcoming conversion therapy legislation.
Sharing the story on Twitter, Eagle claimed:
"this Govt reneges on its manifesto commitment to ban the abuse that is conversion therapy"
It is the latest in increasingly regular attempts by activists to rewrite the past to suit their own agenda.
Let Us Pray pointed out the faulty claim to Angela Eagle on Twitter. We explained that the policy had never been in any Conservative Party manifesto, nor indeed is a "ban" mentioned in her own party's manifesto.
This is not a partisan point. No parties promised a conversion therapy ban in 2019, so no one can claim the policy has an electoral mandate.
But instead of accepting it had been a mistake, Eagle instead doubled down on her false claims, absurdly asserting that it was in the 2017 Conservative manifesto. It was not.
It wasn't in the Liberal Democrats or Green Party manifestos either. The tough truth for the Labour MP is that LGBT activists considered it a snub that their favoured policy wasn't mentioned at all prior to the last election (2019). Here is how Forbes' LGBT correspondent explained it at the time:
"None of the major U.K. parties has listed a ban on LGBT+ conversion therapy as a manifesto policy."
Party spokespeople in 2019 were broadly supportive of such legislation. That is clear. Warm words were offered. They undoubtedly pandered to the vocal lobbyists. But mere platitudes are far from being hard and fast policy.
That is particularly significant right now. The proposed ban has lost favour amongst politicians. The longer MPs look at it, the less they like what they see.
Clearly the public has lost patience with the influence of groups like Stonewall and Mermaids, which want us all to bow to their ideology. These are the groups behind the most radical proposals for this law. They appear desperate to silence those who dissent from their thinking.
Most importantly, a 'conversion therapy' ban is entirely unnecessary. Abuse against LGBT people is already illegal. If a gay or trans person is subject to verbal or physical abuse, the perpetrator can be prosecuted under existing legislation.
When legislation is before Parliament, LGBT activists will clamour to have ordinary Christians and parents criminalised for failing to automatically affirm children as transgender. If they get their way, we will see people investigated for sermons and prayers and even "casual conversations", as the leading campaign group describes it.
The public didn't vote for this needless Bill, whatever Angela Eagle says. The Government should simply drop the Bill and admit it never made sense.