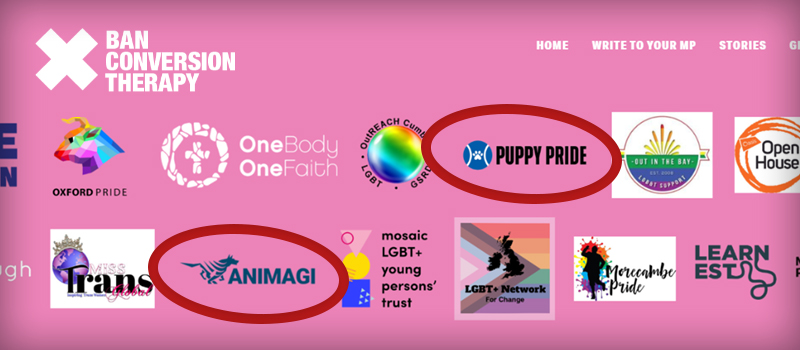 Official 'ban conversion therapy' coalition includes kink and fetish groups
The official campaign for a ban on conversion therapy in the UK is made up of a coalition of over 80 LGBT groups, including Stonewall, Mermaids and the Ozanne Foundation.
Astonishingly, kink and fetish groups are included in the list of members, with their logos on proud display on the campaign website.
The coalition demands a new law which would restrict the moral teaching of churches, saying they will only be satisfied if "private prayer" and "casual conversations" are covered. The group wants to see ordinary parental rights restricted in the areas of gender and sexuality.
Puppy Pride
One of the organisations represented on the campaign website is 'Puppy Pride'. It describes itself as "A global social network for human pups, handlers, and others" (generally adult men who dress in leather dog costumes for sexual role play).
The website lists meetup events for followers of the fetish, hosts image galleries and sells merchandise including sex toys and costumes.
The social network claims to have almost 12,000 signed-up members, however it is run by just one person, Kye Etherton, a former marketing designer.
Last year, Kye planned to open a 'fetish shop' and 'social space' called "Kink Bunker" in Manchester city centre. Kye explained that the shop would offer lessons in how to use fetish gear including "rope workshops".
Animagi
Reading-based kink and fetish promoter, Animagi, is also part of the coalition. The group officially closed in June 2023, but it remains listed as a member on the ban conversion therapy campaign website.
The organisation described its focus as: "improving education and awareness of typically "taboo" topics such as kinks, fetishes and sex work within the wider LGBTQ+ communities". It claims to have worked with Pride parade organisers to "ensure visibility and representation of Kink & Fetish and sex worker communities".
Its website mapped "UK fetish events" and was funded through the sale of badges and flags. Its range of merchandise celebrated a range of bizarre sexual kinks, including BDSM, rubber, pup, master/slave, ownership and 'age play' (which includes pretending to be children during sex).
Notably, the group co-signed a statement following the Government's announcement of changes to its conversion therapy plans in spring 2022. They called on their members to contact their MPs over the proposals. Other signatories included Birmingham Fetishmen; Liverpool Leathermen; South West Rubbermen; Mr Puppys UK 2017, 2018 and 2020; and Mr Leathers UK 2019 and 2020.
Worrying partnership
The 'ban' campaign is most closely associated with Stonewall, the controversial LGBT charity whose mailing list campaign supporters are added to. The campaign is chaired by Jayne Ozanne, a member of the Church of England's general synod and LGBT activist. Other notorious members include 'trans-children' charity Mermaids.
The coalition has previously been welcomed with open arms by some politicians and even given the opportunity to give evidence to Parliament.
The inclusion of kink and fetish groups within the LGBT umbrella has long been a hotly-debated topic within these communities. For instance, some recognise that the presence of highly sexualised fetish costumes at public Pride parades is deeply inappropriate. Yet evidently many still welcome it.
It is truly shocking to see groups that promote even slavery roleplay and 'age play' within a campaign that purports to oppose abuse.
A campaign against Christians and parents
The campaign calls for a law modelled on that in Victoria, Australia, where it is now illegal for parents to refuse to support their children receiving puberty blockers. The official guidance also describes "not affirming someone's gender identity" as an illegal act.
If the ban conversion therapy campaign got its way, loving parents in the UK could face investigation for warning their children away from dangerous LGBT ideology.
And the campaign would see the moral teaching of the church restricted on matters of sexual ethics. It wants to see orthodox churches under pressure to drop biblical teaching on marriage and sex, and for Christians to be criminalised for praying for or pastorally supporting gay friends.