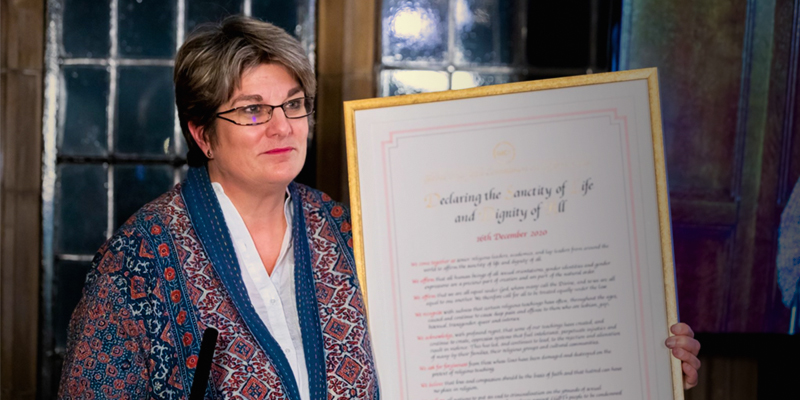 Ozanne: conversion therapy happening throughout Church of England
The leader of the Ban Conversion Therapy campaign, Jayne Ozanne, is continuing her attacks on the Church of England.
Commenting on an exchange of letters between Archbishop of Canterbury Justin Welby and TV presenter Sandi Toksvig, Ozanne claimed that "most bishops don't even believe [conversion therapy] happens in their churches".
The bizarre comment shows once again what really underlies the campaign on conversion therapy. It is not merely coercion and abuse of LGBT people that they want to ban – no one could claim this takes place in every diocese in England. They are seeking to outlaw the traditional Biblical view of marriage, that sexual conduct is only acceptable within a man-woman marriage.
Toksvig and Welby
Toksvig had written to Welby following his recent reaffirmation of the validity of Lambeth 1.10 – an official Anglican resolution which says "homosexual practice" is "incompatible with Scripture" and "abstinence is right for those who are not called to marriage".
The presenter, who is in a same-sex marriage and is a secular humanist, expressed her frustration with the Anglican Church's position on sexuality and invited the Archbishop to meet over coffee. She said she had received death threats over her own sexuality and explained the strain it has on her and others in the community.
Welby accepted the invitation for coffee, and was clear in his response that the hatred and threats received by Toksvig and others were sinful. The Church of England shares this view, he said, adding that it "vigorously opposes conversion therapy".
Welby's statement contains no shocks or surprises. Lambeth 1.10 explains that all Anglicans must "minister pastorally and sensitively to all irrespective of sexual orientation". This is absolutely right – there is no place for coercion or abuse in the Church. We must not compromise on the Bible's clear teaching on sexual ethics, but neither can we compromise on its teaching on treating others with compassion.
Conversion therapy
But Ozanne, who has called for the ordinary work of churches to be outlawed as 'conversion therapy', feigned outrage.
Speaking of Welby's letter, she tweeted:
"@churchofengland vigorously opposes conversion therapy'?!!! Goodness, most bishops don't even believe it happens in their churches! Lambeth 1.10 encourages & legitimises it…"
The claim is as bewildering as it is disingenuous. Ozanne is a member of the Church of England. She knows churches are not lining up to bully or abuse LGBT people. And Lambeth 1.10 is clear that loving pastoral care is essential when dealing with these sensitive matters. Across denominations, those who are struggling with their gender or sexual orientation should be able to approach church leaders and receive loving support to uphold the Bible's teaching.
Claiming that 'conversion therapy' is rife in the Church is simply dishonest. It does not take place in the churches of all Anglican Bishops, as Ozanne suggests. Evidently what Ozanne has in mind when she talks of 'conversion therapy' is very different from what the wider public would think it means.
Ozanne has spoken of the need to ban "gentle, non-coercive prayer". Those within her own campaign have sought to have pastoral care outlawed when it doesn't affirm LGBT ideology. Her campaign has even called for "private prayer" and "casual conversations" to be covered by a conversion therapy law.
None of these are 'conversion therapy' and this is the danger of such a law. Existing laws already tackle coercion and abuse; those who are victims can already be helped to get justice in the courts. Instead, the new legislation Ozanne and her allies demand would cut across religious freedom, trying to force those who maintain historic Christian teachings to change their tune. As one LGBT-affirming church leader said of a ban: "from a theological point of view, from my perspective … it would be very, very helpful".
Ozanne paints a picture in which every Christian who disagrees with her is carrying out 'conversion therapy'. In her narrative, anyone who seeks to uphold traditional church teaching on sexuality should be criminalised. A law in these terms would be repressive and obviously wrong.
Latest articles