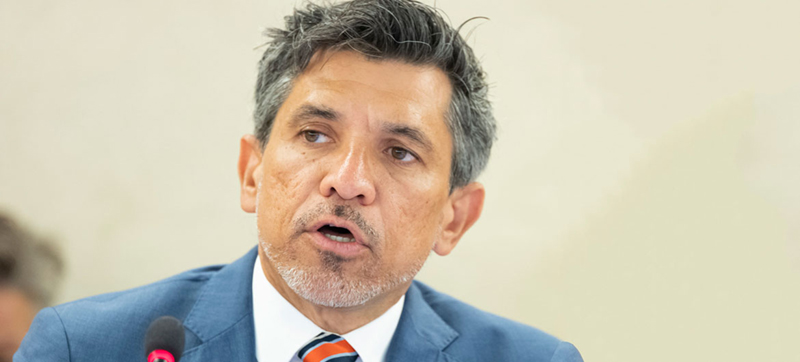 UN conversion therapy 'expert' says children can decide their own gender aged 3
Activists pushing for a ban like to think the UN has their back on a conversion therapy ban.
That's not entirely true. There hasn't been a vote. It is one UN 'Independent Expert' who said governments should bring in a ban.
Meet Victor Madrigal-Borloz, UN Independent Expert on sexual orientation and gender identity since 2017. With connections to Harvard and as a former head of the International Rehabilitation Council for Torture Victims (IRCT), he might sound like a safe pair of hands.
(You might remember the IRCT – they declared that 'conversion therapy is torture', though clarified they were talking about things such as "beatings, rape, forced nudity … and electrocution." It's no coincidence to find that Madrigal-Borloz presided over much of that project too.)
Abusive practices
In some ways, the UN Independent Expert's report into conversion therapy wasn't a pointless endeavour. While the horrific experiments of the past – things like electroshock treatments – no longer take place in the UK, abusive practices still exist abroad. We can all get behind efforts to end genuine abuse, wherever it happens.
When the UN report talks of "faith-based" practices, it mentions "beatings, shackling and food deprivation". No one can condone these. They do not belong anywhere in Christianity. But there is no evidence these things are taking place in the UK and they are clearly already illegal. So what does the report have to say to the UK situation?
Affirmation
Madrigal-Borloz recommends governments should support the "free development and/or affirmation of sexual orientation and/or gender identity". The report goes on to say:
"demonization and pathologisation play a role in perpetuating violence and discrimination on the basis of SOGI and enable the exposure of LGBT persons to practices of conversion".
Again, no one would agree with 'demonization', but this can be a matter of perception. Some activists accuse their opponents of 'demonization' when they just mean 'disagreement'. People must surely be free to say they disagree with certain moral choices without being accused of 'demonizing' the other. And 'pathologisation' sounds bad, but studies show that children struggling with gender dysphoria have a high likelihood of other mental health problems. Seeking good quality, professional healthcare for these children can hardly be equated with "perpetuating violence".
Affirming young children
So what does Madrigal-Borloz mean by 'free development and/or affirmation'? A little-known video posted on his own twitter account tells us what this is really about.
Asked "Are children mature enough to decide their gender identity?" the UN 'Expert' declares:
"There is no reason not to acknowledge a child's agency in relation to their gender identity".
None? Really? Children are not usually given free rein over major life decisions. Are children not imaginative and free to enjoy being creative, without anyone taking too seriously, for now, their developing perception of the world?
Madrigal-Borloz goes on to claim that children have developed a sense of what is masculine or feminine aged just two. He continues:
"Most of them will also start to categorize their own gender by age three, and will have a stable sense of gender identity before age six."
If you think this is just an acknowledgement of some wacky, but purely academic, idea, Madrigal confirms it's not.
He next explains that "receiving gender-affirming treatment at an early age" is beneficial, and advocates "access to pubertal suppression" for any who want it. He claims it is fully reversible, despite most medical advice saying otherwise.
Banning conversion therapy
So is the UN Expert a good ally to those demanding a broad conversion therapy ban in the UK?
He has certainly bought fully into their ideology. But he also exposes the problems of what they demand. A ban on practices which are already illegal makes little sense. There is no need for such a ban. So why all the loud protests and media frenzy over the issue?
They want a ban to cover anyone who doesn't 'affirm' sexual orientation or gender identity. That's what the ban in Victoria, Australia does. It is now illegal there to 'not affirm someone's gender identity' and illegal for a parent to refuse to support their child getting puberty blockers. Church leaders are required to affirm the gender identities and sexual orientations of church members by the same law.
Anyone who disagrees with this extreme LGBT ideology finds themselves on the wrong side of such legislation. It impacts particularly Christians and the ordinary work of churches, where the teaching of the Bible is at odds with what activists claim.
Lawmakers in the UK should be very wary of taking advice from an 'expert' who thinks children should be encouraged to change gender aged three.
Latest articles