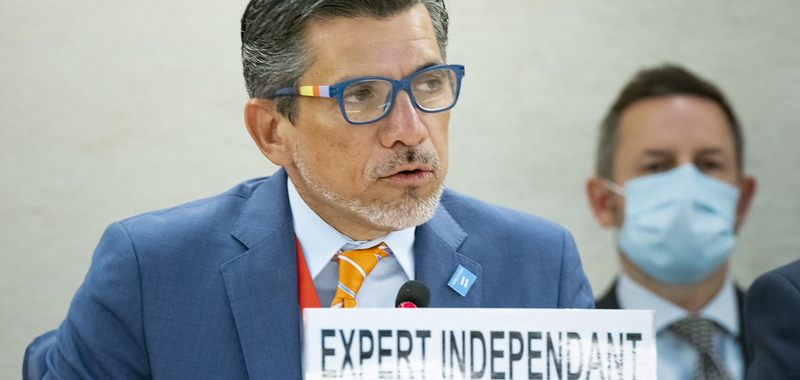 UN 'expert': forcing gender identity on us all
by James Kennedy

James works in public affairs for The Christian Institute and is part of the Let Us Pray campaign.
Victor Madrigal-Borloz is the UN's 'Independent Expert on sexual orientation and gender identity'.
A man on a mission, he is charting his way around the UK, holding meetings with various groups, seeking to "assess human rights of LGBT persons".
We previously wrote on Madrigal-Borloz's claim that children as young as three could understand their gender identity, and how that could impact a conversion therapy ban. Read that here.
Many will see his tour as little more than a way of attacking the ever-growing number of concerned UK citizens, who are thoroughly unpersuaded by extreme transgender ideology.
For example, in his press statements he claims that transgender people are suffering the fallout of "abusive rhetoric" from "politicians, the media and social commentators". He expressed "grave concern" that a conversion therapy ban had yet to materialise – failing to acknowledge that abusive practices are already illegal.
His rhetoric has been so divisive that even LGB groups and commentators have taken him on publicly. The concepts of 'sexual orientation' and 'gender identity' are at odds, they say. Apparently lesbians don't like the implication that they are bigoted for failing to fancy men who claim to be women. LGB Alliance's Bev Jackson explained in The Critic: "Having an advocate for Sexual Orientation and Gender Identity is a bit like having one for Veganism and Chicken Farming. It doesn't work."
They are far from the only ones concerned. But their efforts in recent days to undermine Madrigal-Borloz are remarkable.
They secured a meeting with him, gaining the opportunity to highlight the increasing number of detransitioners; the Keira Bell court case; the Cass Review of NHS gender services; and the closure of the Tavistock clinic for children confused about gender.
In a bizarre twist, Madrigal-Borloz denied knowledge of almost every aspect. Despite claiming to have read the Cass Review's Interim Report in its entirety, he said he had never heard of detransitioner Keira Bell (who is mentioned throughout).
Getting to grips with all of these is absolutely crucial, not only for the UK, but for rest of the world too. Medical bodies in western nations are all reconsidering clinical pathways that have too often been driven by ideology rather than medical best practice.
But the trans ideologues continue to push for laws which criminalise those who disagree with their extreme ideas. Madrigal-Borloz has supported the approach of the Scottish Government, whose advisors recommend following the broad conversion therapy ban in Victoria, Australia. There it is illegal to "not affirm someone's gender identity", or for parents to refuse to support their children receiving puberty blockers.
Madrigal-Borloz also met with members of the leading campaign group 'Ban Conversion Therapy'. Backed by Stonewall, they have demanded that a new law covers "casual conversations and private prayer". They want to see the ordinary work of churches brought into line with LGBT theology, and want to see children removed from loving parents who urge caution over extreme medical treatments.
Previously, when asked if children are mature enough to decide their own gender identity, the UN Expert claimed that children as young as three can begin to categorise their gender identity. He said: "There is no reason not to acknowledge a child's agency in relation to their gender identity".
He stated that "receiving gender-affirming treatment at an early age" is beneficial, and advocates "access to pubertal suppression" for any who want it. He claims it is fully reversible, despite most medical advice saying otherwise.
Is this really the ideology on which our laws should be based? Are the governments of the UK and Ireland really about to produce 'conversion therapy' bans that promote these ideas, at the very time the public is waking up to the dangers?