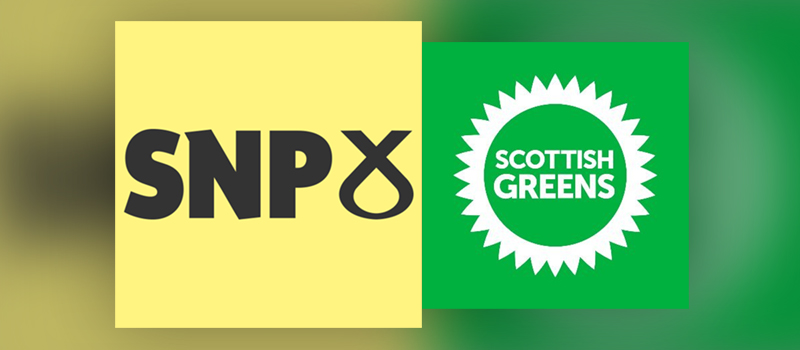 LGBT wings of SNP and Scottish Greens to march on Holyrood
The LGBT wings of both governing parties in Scotland are to protest their own Government, calling on it to be 'bolder' in pursuing a trans agenda.
Out for Independence (SNP) and Rainbow Greens have taken the unusual decision to march on Holyrood when Parliament returns after the summer recess next Monday.
They are calling for the Scottish Government – which has already made commitments to ban 'conversion therapy' and bring in gender 'self-ID' – to advance its trans policies.
It is not uncommon for LGBT activists to take to the streets in political protest, but it is highly unusual for a political party to protest its own Government, especially when they are calling for policies already promised by the politicians.
The groups said in a letter there had been a "huge disinformation campaign" about gender self-ID. It's a strange claim, since most Scottish politicians seems to have paid little notice to those raising concerns.
The same is true of a conversion therapy ban: the Scottish Government has ploughed on relentlessly with proposals for a broad ban despite increasing recognition elsewhere that such legislation risks serious unintended consequences.
While it had promised concerned groups they would be represented in its 'Ending Conversion Practices Expert Advisory Group', the group comprised only those publically supportive of a ban. The group's minutes even state that a ban should follow the example of Victoria, Australia, whose repressive legislation outlaws parents who don't support their children receiving experimental puberty blocking drugs. There seems to have been no pushback.
When banning conversion therapy was initially considered by the Scottish Parliament, its Equalities Committee first took evidence from active Green Party member, and now councillor, Blair Anderson. The Committee was supposed to be scrutinising his demand for legislation banning conversion therapy. But the Green Party and SNP had already promised to implement the proposal. Only one of eight sessions of the Committee heard from any who had concerns. Seven out of ten committee members had signed a public pledge to back Anderson's demands.
And only last year the Scottish Parliament received heavy criticism for its funding of Stonewall – which spends its income lobbying politicians. Those payments continue.
After the summer recess the Scottish Government could take the opportunity to listen to those of us who have concerns. We hope it will. But first the parties will march on their own Parliament to call on themselves to be bolder in pursuing the very policies that cause so much concern.