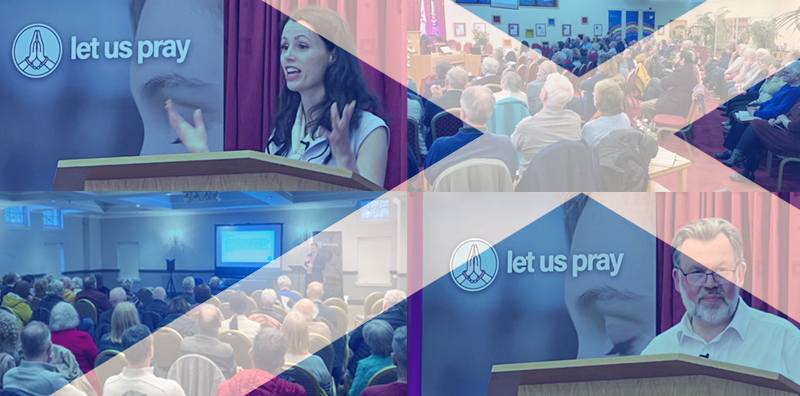 Let Us Pray Scotland tour
For the last two weeks, the Let Us Pray campaign has been holding meetings across Scotland. We set out to inform concerned Christians and church leaders about the threat of a conversion therapy ban to the ordinary work of churches and innocent parenting.
Not only were we able to bring supporters up to date on recent developments, but we were able to encourage them to take a stand on this issue. The seriousness of what's at stake was palpable at every meeting and it was clear from our conversations with supporters that they felt motivated to pray and to act. We were especially encouraged to see every major denomination represented at the meetings.
It was fantastic that hundreds came along to the events in Inverness, Perth, Dundee, Edinburgh and Glasgow. It was great to meet and chat to you all! Thank you so much for your continued support and prayer.
Scotland has been pursuing what looks like the most extreme 'conversion therapy' legislation in the world. The Government's own advisers say it should be modelled on the dreadful law in Victoria, Australia – but they want to go even further.
Thankfully, the public is beginning to realise how bad this legislation could be. A legal opinion by Aidan O'Neill KC was clear that the proposals were "fundamentally illiberal" and would exceed Holyrood's powers. The legal opinion made headlines across the press.
It explained that loving parents could be caught by the ban, if they were to help a gender-confused child feel comfortable in their own body. Campaign group 'For Women Scotland' shares this concern, as Susan Smith explained to us recently.
It was also clear from Aidan O'Neill's legal opinion that the ordinary work of churches is in the firing line. He said that adopting the advisers' recommendations "would have the undoubted effect of criminalising much mainstream pastoral work of churches, mosques and synagogues and temples."
Church leaders have also been speaking out. Last month, a group from a broad range of denominations wrote to Holyrood, saying a broad conversion therapy ban "would criminalise ordinary Christians and church leaders for expressing mainstream, orthodox belief".
One of the signatories of that letter, Revd Dr William Philip, explained to Let Us Pray that behind the proposals were some with an agenda that "does appear to be particularly against the Christian faith and the Christian church".
Latest blog posts